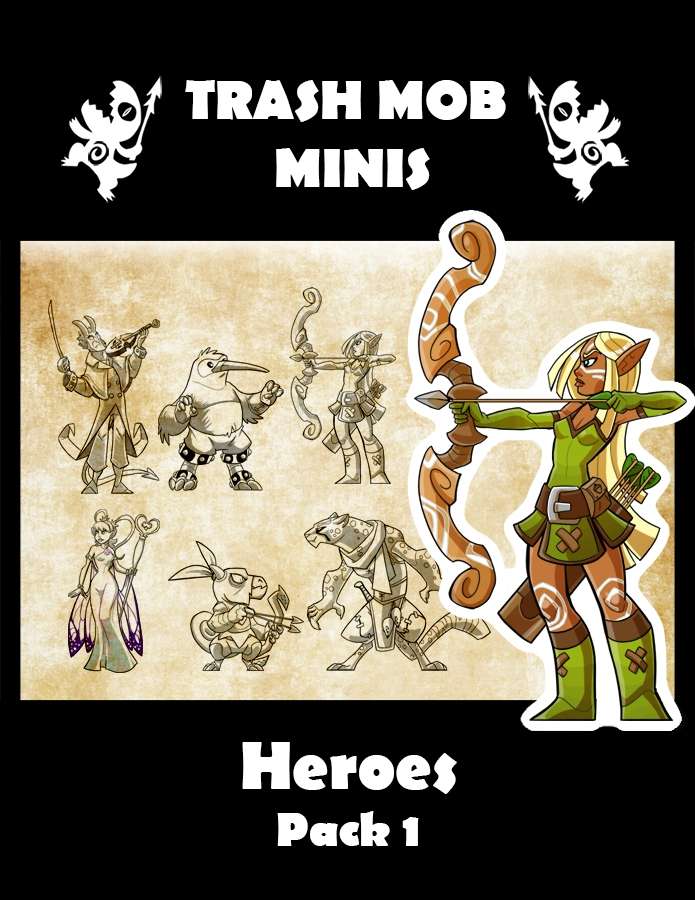 Trash Mob Minis Sets
Heroes: Pack 1 by "Trash Mob Minis"
The mini figures are illustrated by Trash Mob Minis. Follow them on Twitter, and buy their digital sets on DriveThruRPG.

Sets sold by JPsCreations.com are printed double sided, laminated for protection, and laser cut. Includes 10 free bases per page.
Heroes: Pack 1 is a set of six characters designed to represent player characters or NPCs for your tabletop games. This pack contains a diverse selection of fantasy characters, ready to explore dark dungeons and slay monsters!
Heroes: Pack 1 Includes printed, laminated, laser cut mini-figures of a Wood Elf Ranger x6, Feline Scout x5, Kobold Assasin x6, Half-Elf Caster x6, Devilkin Bard x5 and Kiwi Monk x6.

34 Mini-Figures on a page!
All Trash Mob Minis have a front and back, includes bases, and are intended for tabletop games played at around the 25-30mm scale.